I can do a curtain quote for a house in under an hour with accurate fabric quantities....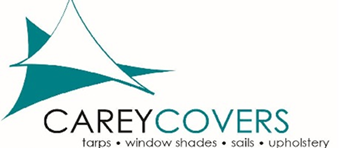 Established in 1980, Carey Covers have been specializing in outside awnings, tarps, covers, and upholstery to clients in regional Victoria. For the last fifteen years, we had also been supplying clients inside and outside blinds and recently decided to expand locally into the curtain market.
Curtain quotes and working out fabric quantities was taking forever and I found curtain quotes for new homes always at the bottom of my to-do list. If we were going to make inroads into the curtain market I had to find another solution.
I saw the advertisement for Drape and Blind Software (DBs) in the Window furnishings magazine, googled them and watched youtube clips about the software. I also asked every fabric rep that came through our doors their opinion on computer software.
There were other companies selling similar but deciding factors concerned me. Some were not compatible with Quick Books, some did not offer after sales support and you had to load in all your own products and pricing.
I worried about the initial cost but in 2015, the government was offering incentives for business upgrades so I talked to my accountant and decided to take the plunge. I probably should have had the system 4-6 months earlier but you cannot reverse time so looking forward Drape and Blind Software is a marvelous product.
The initial training took a day and then I had some online meetings to tweak my training and knowledge. Now with DBs, I can now do a curtain quote for a home in under an hour with accurate fabric orders. Upon the client's approval of the quote, I can then transfer relevant orders over to my preferred suppliers very easily with fabric quantities required and curtain workroom sheets produced.
I believe the system pays for itself with every quote due to its accuracy. It prompts you to consider all aspects of the job for quoting instead of overlooking items which can happen in a busy environment. All fabric and manufacturing updates are so easy to install and keep our business up to speed with all new pricing.
I have chosen a payment plan option and this works very well for our cash flow. I use DBs all the time and have never felt that it was a luxury to have bought it.
Definitely, a product to be factored into your business.
Geraldine Carey