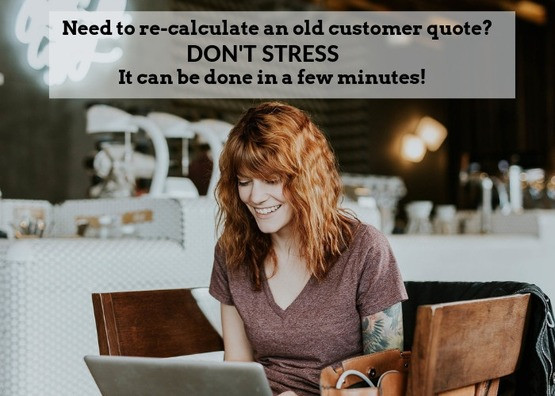 You visited the customer six months ago and finally, they made the decision to go ahead with your quote. High fives all around! But, it was a large quote for curtains with different fabrics in each room, blinds and tracks. You remember that one of the fabrics had low stock and the blind supplier had a price increase recently. Before you put the job into production you should check everything. This means ringing suppliers to confirm availability and price and re-doing the quote manually if things have changed.
Re-calculating old quotes can be a pain in the neck but it does not have to be this way. Drape and Blind Software (DBs) clients love that you can pick up an old quote and re-calculate everything in a few minutes. You simply re-select fabrics and blinds to make sure they are still available and then DBs will perform the updates instantly with new pricing. If fabrics or blinds are discontinued you make new selections and issue an updated customer quote. All this means that you will save time and produce accurate profitable quotes.
Take the stress out of quoting. Book a no-obligation demonstration today and see why our clients are smiling.